[caption id="attachment_9560" align="alignnone" width="200"]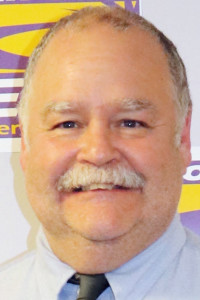 FRED SIMMONS[/caption]
Local 888's Committee on Political Action has endorsed two members of the union's executive board in their bids for elective office. These endorsements are part of COPA's activities for the fall election.
As a member of the Chelsea City Council, Enio Lopez has supported community members working to improve the city. Lopez backed the council's bid to ban single-use plastic bags, noting that they are bad for the environment and an all-too-common ingredient of litter.
Lopez is a Local 888 leader at the Chelsea Soldiers Home.
Fred Simmons, a Haverhill custodians union leader, is running for one of the hotly-contested City Council seats there.
Simmons told a Haverhill cable TV host: "One of my biggest issues is that we need to bring more affordable housing to the city. Time after time I hear from people that they can't afford to live here." He said that his passion for the issue has been fueled in part from serving on the board of the Haverhill Housing Authority.
In Boston's upcoming City Council race, Local 888's COPA is backing at-large incumbents Michael Flaherty and Michelle Wu. Also endorsed for City Council: * Lydia Edwards, District 1, which covers Charlestown and East Boston.
* Ed Flynn, District 2, which covers South Boston and Chinatown.
* Andrea Campbell, District 4, which covers Mattapan and parts of Dorchester.
* Kim Janey, District 7, which covers Roxbury and parts of Dorchester and the South End.
In May, Wu and Edwards held a discussion with labor activists, including Local 888 political director Tom McKeever, prior to City Council hearings on a Fair Workweek Ordinance. Such a law would require city contractors to provide employees with advance notice of changes to work schedules, fairly compensate workers for last-minute changes and acknowledge the right of employees to rest between shifts.
During the discussion, McKeever stressed the importance of unions in addressing workplace problems. He also talked about the need to raise the minimum wage as housing and other costs skyrocket.
In other activity, the Local 888 COPA recently organized its first social event for members — a day trip to the MGM Springfield, a newly opened casino. For more info on the Local 888 COPA, contact Tom McKeever at tmckeever@seiu888.org.