[caption id="attachment_9541" align="alignnone" width="300"]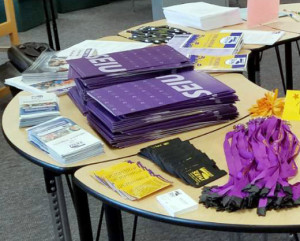 THUMBS UP! Local 888 literature was on display when Oxford members OK'd their new contract.[/caption]
Two Local 888 chapters in the Oxford Public Schools ratified new labor contracts on one of the biggest days of the school year. The staff was preparing for the return of students with the start of school.
"Everything went well," said Sue Grenier, summing up the day. The steward for the clerical chapter said that, "It feels good to have a new contract. We put a lot of work into this, a lot of meetings, to get to this agreement." It includes increases to longevity pay, which kicks in with five years of service and goes up again at 10.
As for the back-to-school preparations, Grenier said: "It's very hectic. There will be new students and new classrooms for others to go to. But we're ready." Both chapters' new contracts include 2 percent raises in each year of the three-year pacts. The other chapter covers instructional assistants, including in school libraries.
For info on Local 888 school chapters: Darlene Archibald, darchibald@seiu888.org.