[caption id="attachment_9582" align="alignnone" width="300"]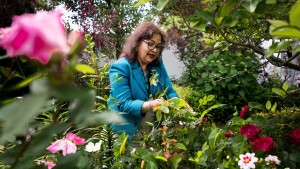 GROWING SUCCESS: Nasim Parveen, who works at B.U.'s Stone Science Library, has been honored for her home gardens.[/caption]
After winning the mayor of Boston's annual gardening contest three times, a Local 888 librarian's passion for gardening has landed her prime billing in a Boston University news publication.
Nasim Parveen works at B.U.'s Stone Science Library, whose notable collections include the fields of archaeology, earth science and geology. While the library now has 14,000 books, when Parveen arrived there in 1989 it had just 250.
The B.U. Librarians' new contract included overdue recognition for her dedication: An 8 percent raise on top of her cost-of-living raise.
Similarly, when Parveen originally bought her West Roxbury home about 17 years ago, the house was still under construction and the back yard was largely vacant. The city had used it to store sand and salt.
Now it is home to more than 250 perennials that bloom from early spring to late fall, along with many annuals. She has statues, a fountain, a paved walkway and even a gazebo.
Parveen compares the practice of gardening to working as a librarian. She told the BU_Today: "Both are creative, full of dreams, and require hard work, education, and imagination. The Stone Library is my garden, too. It's my child, because, like my garden, I helped make it from scratch."
For more on Parveen, including a video, see //www.bu.edu/articles/2019/this-bu-librarian-turned-her-backyard-into-an-urban-eden-one-plant-at-a-time/