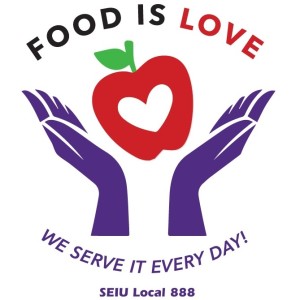 "I don't think we've ever had a contract with so many gains," said Mary Cirone, chapter chair of the Woburn cafeteria workers. "It's great."
Her Local 888 chapter agreed — and voted unanimously for the new agreement, which includes 2 percent cost-of-living increases every year in the contract.
The biggest improvement in the contract was in longevity pay. The old contract called for $300 per year to be paid after a worker was there for six years. Now, on the six-year anniversary date, the worker will get 6 percent of her annual pay — as much as $2,500. Cirone notes that she's only been there for several years, so won't be able to collect that bonus for a while. "You have to put in your time," she said.
Meanwhile, one woman who has worked there since 1987 will get a bonus of 21 percent.
Another big change: For those who are there four hours a day, they will get a 15-minute break for the first time. Those working six or more hours per day will  also get a 15-minute break on top of a lunch break. While this may seem only reasonable, nonetheless food service managers disputed these union gains. "I had to make a screen shot of that part of the new contract and send it to them," said Cirone.
The problem, she said, is that school enrollment is up and workers "are so busy, they're lucky if they can even take a full lunch break." Her own manager hasn't been taking a lunch break.
Local 888 organizer Larry Higgins was "a huge help" in getting major improvements to the contract, said Cirone, who works at the Joyce Middle School.