[caption id="attachment_9646" align="alignnone" width="300"]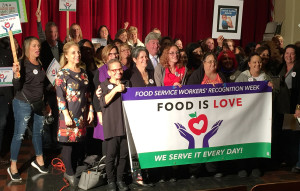 'SOMETHING MUST BE DONE': Local 888 organized a public hearing with state officials in which cafeteria workers called attention to their grievances, including chronically low pay.[/caption]
More than 75 food service workers attended a public hearing in Brockton, on Oct. 17, to spotlight their job concerns — especially the need for more pay and increased dignity and respect for the work they do.
In addition to testimony by food service workers, Local 888 leaders released an analysis by the UMass Amherst Labor Center of a survey showing that 75 percent of respondents make $18 an hour or less. Local 888's food service membership is 87 percent female — pointing to significant gender pay inequity. The public hearing, at the West Middle School, was part of Food Service Workers' Recognition Week.
"For far too long, the work done by 'lunch ladies' has gone unrecognized," said Karen Warren, president of SEIU Local 888's Brockton cafeteria chapter. "Our work is essential for students to perform well in the classroom, and it is now a career for most of us."
During Food Service Workers' Recognition Week, Local 888 leaders put up banners in their school cafeterias, displayed lawn signs on roads and driveways leading to schools, and gave out "Food Is Love" coffee mugs to participating members who work in food service occupations.
"In terms of pay and benefits, we're going backwards — and something must be done!" said Celeste Cignarella, a Brockton food service worker. "I know we're told that life is unfair, but I'm asking our elected officials to take control and bring about some fairness for us."
"We love our jobs," added Morgan Mathena, a food service worker at Brockton's Davis Middle School. "But we do need to be fairly compensated for our work."
"All this week, principals, teachers, paraprofessionals, custodians — and most importantly — students showed appreciation for our work," said Warren. "In many cases people brought us lunch, chocolates, flowers, and school spirit wear. We really do feel better appreciated thanks to our union's program."
For a full report or for a video on the public hearing, along with Gov. Charlie Baker's proclamation on Food Service Workers' Recognition Week, visit: //www.seiu888.org/cafe/.