[caption id="attachment_9629" align="alignnone" width="300"]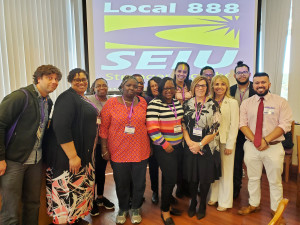 LEADING LIGHTS: Participants in the chapter funds workshop show Local 888 pride at the 2019 Leadership Conference.[/caption]
When's a good time for a chapter to order out for pizza — and when might it be better to pony up the funds for a party? Those were some of the topics in the workshop on "Using chapter funds to build members' power" at Local 888's 2019 Leadership Conference.
The Boston City Hall clerks and techs chapter has organized a Christmas party at a downtown restaurant the last couple years. "It was a good use of chapter funds, and members had a chance to relax and socialize away from the building," said Keturah Trusty, chapter president of the clerks and techs unit.
Before that, the chapter had tried a lunchtime winter holiday event. However, it did not build up a sense of community and solidarity. "People were worried about getting back to their desks," Trusty said. They tended to take the lunch, and then go back to their offices.
On the other hand, providing lunch is a good way to encourage attendance at union meetings, said Anita Christon, Local 888 recording secretary. Pizza is always popular.
Chapter funds can also be used for such things as bereavement donations (such as flowers or fruit baskets). For more on the use of chapter funds, see //www.seiu888.org/chapters/.