[caption id="attachment_9656" align="alignnone" width="300"]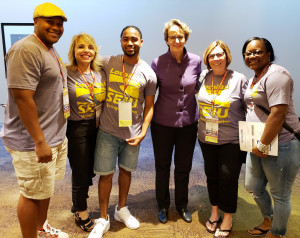 TOGETHER WE RISE: Local 888 leaders were on hand with SEIU President Mary Kay Henry, third from right, for the international's Unions for All Summit in Los Angeles. From left are Local 888 Executive Board members Emmanuel Marsh, Teresa Riordan, Kevin Nascimento, President Brenda Rodrigues and LaToya Weaver. For summit highlights, see video: https://youtu.be/Mq6yq4_tTw8.[/caption]
Several Local 888 Executive Board members and President Brenda Rodrigues were among the 1,000 SEIU members — and workers fighting for a union — who joined together in Los Angeles for the Unions for All Summit. Many of the top 2020 candidates for president addressed the conference.
Rodrigues said the goal of the summit was "to inspire attendees to work together and turn this country around. All people should have the opportunity to join in union, no matter where they are from, what color they are, or where they work."
SEIU President Mary Kay Henry called on presidential candidates to support the Unions for All agenda. To download or print a copy of SEIU's "Unions For All: Building Power To Win" booklet, in English or in Spanish, click here.
The "Unions For All" theme promotes:
The right to join a union as the best way to raise wages, improve working conditions, and begin to fix our rigged economy.
Guaranteed access to quality, affordable health care and long-term care.
A welcoming and safe America for immigrant families.
Bold action on climate change that holds corporations accountable for greenhouse gas pollution and creates good, union jobs with a just transition to a green economy.