[caption id="attachment_9703" align="alignnone" width="237"]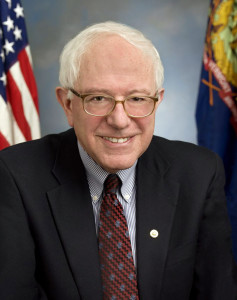 BERNIE SANDERS: Told SEIU members that his overall goal 'is to bring people together by the millions to demand a government and an economy that works for all of us.'[/caption]
Local 888 members and leaders took part in a live streaming-video interview with presidential candidate Bernie Sanders. The U.S. senator said his overall goal "is to bring people together by the millions to demand a government and an economy that works for all of us."
The national event was emceed by Valarie Long, an SEIU executive vice president. Affordable health care was the No. 1 issue for members in an informal live poll; retirement security was No. 2. Sanders answered questions on topics ranging from racism to health care.
More than 7,000 SEIU members and organizing leaders across the country took part in the digital town hall. Long said that the power of SEIU was demonstrated by having nine presidential candidates come before our members to seek their votes and the union's endorsement.
The event was a follow-up to the grilling of candidates that took place at SEIU's recent Unions for All Summit. SEIU wants all candidates to endorse the platform.
Sanders was unable to attend the summit due to an illness, but was able to address members and answer their questions via the November streaming-video event. "We need an unprecedented grassroots movement of working people to defeat President Trump," Sanders said.
Several Local 888 Executive Board members and President Brenda Rodrigues were among the 1,000 SEIU members — and workers fighting for a union — who attended the summit.
Rodrigues said the goal of the summit was "to inspire attendees to work together and turn this country around.
All people should have the opportunity to join in a union, no matter where they are from, what color they are, or where they work." To download or print a copy of SEIU's "Unions For All: Building Power To Win" booklet, in English or in Spanish, click here.