[caption id="attachment_9706" align="alignnone" width="300"]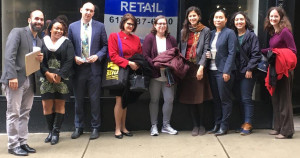 FIGHTING FOR THEIR RIGHTS: Massachusetts public defenders attended a board meeting of their employer, the Committee for Public Counsel Services. A proposed bylaw change would welcome them as associate members of Local 888, as they are not yet union members, but are seeking their collective bargaining rights.[/caption]
"All members are urged to vote yes on the proposed bylaw reforms," said Local 888 President Brenda Rodrigues. "We worked very hard on drafting these changes, which were unanimously approved by the executive board."
The goals of the bylaw changes are to increase participation and promote greater democracy in the union and to strengthen members' rights to a safe and fair work environment. The changes are based on the executive board's experience with the current bylaws.
The deadline for voting on changes to the Local 888 bylaws is Dec. 20. The proposed changes would:
Create a chapter for Local 888 retirees.
Call on the local's elected president, secretary-treasurer and recording secretary to lead and work collaboratively.
Allow for the use of electronic voting as allowed under federal labor law.
Welcome associate members into the Local 888 fold. One example: workers who have not yet gotten their first collective bargaining agreement.
For more on the proposed Local 888 bylaw changes, see: www.seiu888.org/bylaws/. If you have not received a ballot in the mail, call the union at 617-241-3300 for more information or email myunion@seiu888.org.