[caption id="attachment_9729" align="alignnone" width="300"]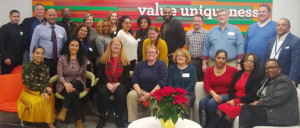 TIME TO PARTY: Local 888 members in Boston's Department of Neighborhood Development celebrated the season while looking ahead to contract negotiations. The chapter is one of 12 city contracts expiring this year.[/caption]
The Local 888 Executive Board has approved a new strategic plan for 2020 that will build on what the union accomplished this past year. A key part of the plan: Gear up to negotiate 83 contracts.
The strategic plan calls for a continued focus on pay equity for cafeteria workers. Eight Local 888 food service contracts will expire in both 2020 and 2021. One goal for next year is to organize another "Food Service Workers' Recognition Week," a major part of this past year's successful "Food Is Love" campaign.
That effort was part of Local 888's commitment to setting contract standards. City of Boston contracts covering 12 chapters, about 1,800 members, will expire this year. Chapter leaders are ramping up efforts with the goals of recruiting new leaders and winning good contracts.
Also, leaders of Unit 2 will come together to plan for 2020 contract campaigns covering more than 1,200 members. These chapters for state workers include the Holyoke and Chelsea Soldiers' Homes, the State Lottery and UMass Lowell .
For a copy of Local 888's 2020 strategic plan, email rwilson@seiu888.org.