[caption id="attachment_9720" align="alignnone" width="300"]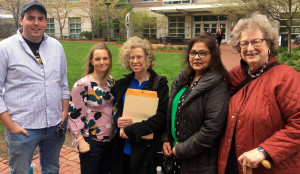 SOME THINGS TO CELEBRATE: Boston University Librarians are pictured (from left): Sean Smith, Kara Jackman, chapter leader Kate Sifron, Naseem Parveem and chapter leader Ann Seskin.[/caption]
Boston University librarians at the theology school and archivists at the Mugar Memorial Library have voted to join Local 888. They had petitioned the National Labor Relations Board for an election to unite with existing BU bargaining unit members.
The vote could result in 14 new Local 888 members. The NLRB-supervised election comes on the heels of a successful contract campaign this fall by the BU librarians.
"The contract was a momentous achievement," said Ann Seskin, a BU librarian who served on the negotiating team. The new contract paves the way for a fairer, more just workplace.
Up until now, the librarians' yearly salary raises have been completely based on "merit." That meant if one member received extra merit pay, it came at the expense of another. After a majority of the members attended a negotiating session, they persuaded BU to provide a 2 percent guaranteed across-the-board increases, with a separate fund for additional merit increases.
BU had also pushed to weaken "just cause" job security protections for discipline or discharge. But after Local 888 members protested at the bargaining table, the university backed down.
In addition to BU staff, Local 888 also unites higher education staff at Brandeis University, Emerson College and UMass Lowell. For more information on uniting higher education workers, call 617-241-3317 or email iadelman@seiu888.org.