[caption id="attachment_9903" align="alignnone" width="300"]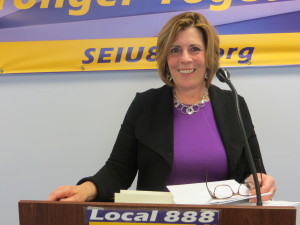 BRENDA RODRIGUES[/caption]
A state bill targeting the fossil fuel industry, and backed by Local 888's executive board, has cleared a major hurdle in the Massachusetts Legislature. The divestment legislation is part of the growing worldwide support for battling the oil industry to curb the damage caused by climate change.
"The struggle for environmental justice is tied to the fights for economic and racial justice," said Local 888 President Brenda Rodrigues. "Climate change affects impoverished and marginalized communities far more than the wealthy."
At the national level, the Service Employees International Union has voted climate change a key part of its political agenda. The international's executive board has also passed a resolution in support of a U.S. Green New Deal, a proposal that aims to address climate change and the need for high-quality union jobs at the same time.
In Massachusetts, the Legislature's Joint Committee on Public Service has approved a bill that would allow local communities to divest their pension funds from the fossil fuel industry. The local-option bill, put forward by the MassDivest coalition, was recently endorsed unanimously by the Boston City Council. State SEIU Locals 888, 509 and 1199 all belong to MassDivest.
Right now, communities' retirement systems are barred from divesting their fossil fuel assets, due to a ruling by the state's Public Employee Retirement Administration Commission. The bill would allow those communities that want to divest — including Boston, Cambridge and Somerville — to sell off such stocks and bonds.
In fact, Somerville's retirement system had divested in 2017. But the state's retirement commission overruled the move.
According to a MassDivest study, Somerville would have made a significantly better return on its pension funds had the city stuck with fossil fuel divestment.
For more information on MassDivest and its investment study, see https://massdivest.org/somerville-retirement-system-case-study/.
For more on the Green New Deal bill, see https://www.congress.gov/116/bills/hres109/BILLS-116hres109ih.pdf.
For more on the Labor, Climate Change and Political Power conference set for Sat., March 28, 8:30 a.m. to 4 p.m. at the Massachusetts Archives in Boston, see: //umasslep.org/event/2020-boston-labor-conference-labor-climate-change-and-political-power