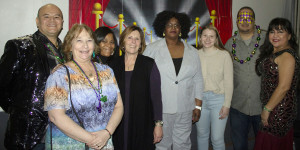 DRESSING UP FOR MARDI GRAS! Local 888 members at the Holyoke Soldiers' Home held their annual party last month. The popular event attracted union President Brenda Rodrigues, fourth from left.
Local 888 leaders are pushing to ensure that more members at the Holyoke Soldiers' Home get the higher pensions that come with Group 2 retirement classification. This would apply to LPNs and nursing assistants.
Right now, the situation is unfair and open to bias, said Kwesi Ablordeppey, the chapter president. "We take care of patients with dementia, Alzheimer's and post-traumatic stress disorder, some of who can even be violent."
To build a case for the better pensions, Ablordeppey found the names of retirees who had been given Group 2 status. These retirees set a precedent, then, for caregivers to get the higher status — a very significant development.
The Group 2 category allows workers to retire at a higher rate of pay earlier than otherwise. Many caregivers are being classified at the Group 1 level, or general state employee, for retirement.
However, the higher category covers positions that "provide direct care, custody, instruction or supervision of persons with mental illness or developmental disabilities."
The unfairness of the current situation is that caregivers move back and forth to the various wards, which also have patients with similar issues. In Ablordeppey's case, he worked for years in a locked ward. Now he mostly works on other kinds of wards at the veterans facility — but works in the locked ward if there is a need, such as due to vacations or illness.
Local 888 members have called on the Legislature to correct this unjust situation. Both Ablordeppey and Local 888 elected officials have testified at the State House in favor of a bill that would do just that.
Now both are asking Soldiers' Home caregivers who are eyeing retirement to contact the union, which will help them fill out the paperwork with an eye toward getting Group 2 pensions.
If Soldiers Home LPNs and nursing assistants are considering retirement, contact internal organizer Cory Bombredi for help in filing retirement papers at cbombredi@seiu888.org or 617-241-3319_._