[caption id="attachment_9895" align="alignnone" width="300"]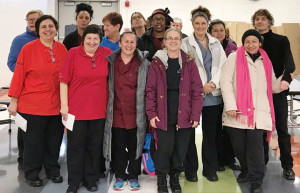 COOKIN' UP A BETTER CONTRACT: The Malden cafeteria workers gather to toast to their hard-won gains. The bargaining committee was made up of Local 888 internal organizer Joe Montagna, right rear, chapter president Nicole Jones, vice president Debbie Arbing, Bonnie MacEachern and Paul Romano.[/caption]
Local 888 members in the Malden cafeteria workers chapter have a lot to celebrate. They recently ratified a new contract that will boost wages for cafeteria workers between 20 percent and 30 percent by its last year.
The Malden School Committee and school superintendent John Oteri were responsive to the union's position that the gap between the predominantly female cafeteria workers and the predominantly male custodial workers was an equal pay issue that needed to be remedied. Working together, Local 888 leaders and staff arrived at a series of wage increases that will bring the lowest paid workers up to a $15/hour rate — several years ahead of the state minimum wage.
In addition, longevity was increased by $100 at each stage, meaning at 10, 15, and 20 years. The new rates will be $500, $575, and $675 respectively.
Also, utility workers and drivers, will get increases of 2 percent, 2 percent and 3 percent. The contract runs from 2018 to 2021.
For more information on Local 888's campaigns on behalf of cafeteria workers, see: //www.seiu888.org/cafe/.