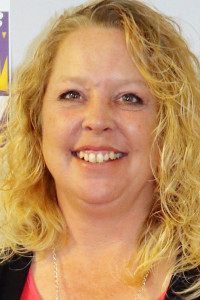 REYNOLDS
Members of the town of Amherst chapter voted unanimously for a new contract that significantly boosts base pay for young workers — to the tune of $5,800 to $8,700 for all new employees.
Just before the vote, a new employee signed her union card. She'll get a big raise as part of the labor agreement. Now that's a warm welcome!
Jennifer Reynolds, longtime chapter president, praised the contract and her union members for sticking together. "Our members wanted to fight — and wanted to go to mediation if they had to."
She added that there had been "a lot of new hires," who will particularly benefit from the contract.
Another "big victory" for the chapter, she said, was that members will, for the first time, be eligible for an educational benefit. That's good for up to $1,000 per member, and a total of $1,500 for emergency dispatchers.
Reynolds said a new town human resources manual noted the educational benefit was going to nonunion employees. "I marched right up to the town manager and told him how wrong that was. I told him I thought it was classism at its worst."
Another improvement in the contract is an increase in bereavement leave to five days for a spouse, children or domestic partners.
Local 888 members will be getting retroactive pay, since the contract ran out last year. The cost-of-living raises for the three-year contract will be 2.5 percent, 2 percent and 2 percent.
A 12-year town employee, Reynolds started out as a parking supervisor and is now the administrative assistant for the senior center. She has served on Local 888's executive board.
The new Amherst contract covers 60 members, who work in such posts as clerk/receptionists, library assistants, parking enforcement officers, building maintenance, animal welfare, emergency dispatchers and building inspectors.