[caption id="attachment_10002" align="alignnone" width="139"]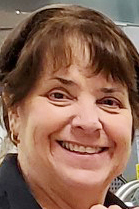 PEGGE MINKLE[/caption]
The COVID-19 crisis with its stay-at-home orders have the economy reeling, and Local 888 members dealing with a range of situations. Gov. Charlie Baker shut down the schools starting March 17, St. Patrick's Day.
"We've been doing quite well — so far," said Pegge Minkle, chapter president for the Hopkinton cafeteria workers. So far, everyone's getting paid while doing online training in food service work. Courses range from sanitation to what meets the portion size and nutritional requirements — across a wide range of ages — for the federal lunch program.
The Hopkinton cafeteria workers, like most SEIU Local 888 members, were still getting paid as usual as April began. Arrangements vary — from custodians working 20 hours per week, to other custodians working full time on jobs that had been on the back burner, to Department of Public Works employees coming to work on a rotational basis.
In Hopkinton, the food service director has been taking care of the small number of requests for federally subsidized breakfasts and lunches. Cafeteria workers are ready to come in if more help is needed.
"We've been so short-staffed in the cafeterias that we have not had the time to take part in trainings," said Minkle. "Now, staff has the time to do it. It's a win-win situation for everyone. It's nice to be able to absorb the material without answering to a crazy schedule."
Staffers take the courses online, and when they finish a given section are tested and given a certificate. Cafeteria workers return the certification to the food service director.