[caption id="attachment_9385" align="alignnone" width="173"]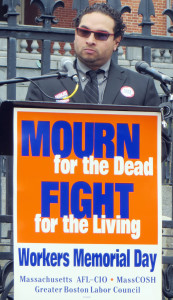 PAYING RESPECTS: Al Vega of MassCOSH speaks at Workers' Memorial Day in Boston last year.[/caption]
"Many workers are being exposed to the deadly coronavirus just while doing their jobs," said Steve Tolman, president of the Massachusetts AFL-CIO. "We have to do more to protect working people in Massachusetts," Tolman told the participants in the state's annual Workers' Memorial Day.
In the shadow of the COVID-19 pandemic, the recent event had to take place over Facebook due to the state's social-distancing regulations. Speakers called for "essential workers" to get access to such benefits as workers' compensation for COVID-19.
The COVID-19 crisis has deeply affected Local 888 members, particularly at the Holyoke and Chelsea Soldiers' Homes. At least 84 caregivers at the Soldiers' Home have tested positive for the coronavirus.
The event was spearheaded by the Massachusetts Coalition for Safety and Health, which Local 888 is a member of. A solemn part of the event was the reading of the names of workers who died in 2019 from injuries or illnesses sustained on the job in Massachusetts.
This memorial included a special tribute to that state's frontline and essential workers — including six of whom have died from the COVID-19 disease they likely contracted on the job.
"May we honor the lives of those who have been lost due to workplace injuries by fighting for the safety for all workers," said the Rev. Mariama White-Hammond of the New Roots AME Church in Boston.
MassCOSH gives Massachusetts Gov. Charlie Baker's reopening plans failing grades. (For the full MassCOSH report card on Baker's plan, see (https://tinyurl.com/888Baker).
MassCOSH had previously made a number of recommendations to Massachusetts Gov. Charlie Baker's Reopening Advisory Board (//masscosh.org/sites/default/files/documents/MassCOSH%20Reopening%20Advisory%20Board%20Comments%205.11.20%20%282%29.pdf).
MassCOSH has released a "COVID-19 Tool Kit for Essential Workers: Health and Safety Protections and How to Make Them Happen" (https://tinyurl.com/888essential). It includes sections particularly of interest for Local 888 members:
Custodians, janitors and cleaners.
Food service workers.
Healthcare workers in nursing homes.