[caption id="attachment_10061" align="alignnone" width="300"]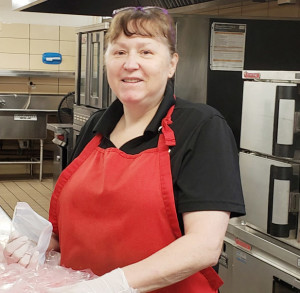 STILL AIDING STUDENTS: Marlborough cafeteria workers have prepared thousands of lunches since the schools closed. See video at https://www.youtube.com/watch?v=00n16RvA6CE.[/caption]
The Marlborough cafeteria workers, always essential, have been on the job through the COVID-19 shutdowns. They have been preparing thousands of brown bag breakfasts and lunches for the city's children, typically in needy families, with the addition of the senior center.
The food is then delivered by buses using two routes each day, both morning and afternoon.
The COVID-19 environment "has definitely been a learning process for everyone involved," said Julie Whapham, chapter president. "People on the whole are doing OK, but some don't feel comfortable coming in to work." Some live with elderly relatives, too.
In the beginning, masks were not mandatory. Everyone has had to adapt to the idea of social distancing.
The staff has had to redesign how the work is done, said Whapham, the food service manager for the high school. For example, now only two people will get assigned to a specific task, so they can stay 6 feet away from each other.
Work flow, too, has been changed so that not everyone is going to use the main refrigerator. And there's more preparation taking place beforehand for the workers who come in later. That, too, helps maintain social distancing.
And now everyone wears masks.
In addition, parents with young children have had the rug pulled out from under them as day-care centers have closed. The rules for who gets paid and who can take sick time have changed over the course of the crisis.
The overall arrangement now is that workers come in Monday, Wednesday and Friday, but are paid the usual amount. The difficult part of that is, they have to work at a hectic pace the days they go in, because they make about twice as much food each day as they were doing at first during the pandemic.
The Massachusetts Coalition for Occupational Safety and Health has issued guidelines on COVID-19 safety that includes sections on custodial and food service workers. See: https://tinyurl.com/888essential.