[caption id="attachment_10064" align="alignnone" width="300"]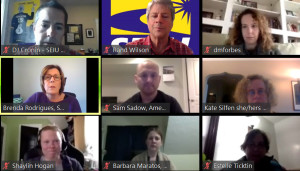 ZOOMING IN ON HIGHER EDUCATION: Local 888 leaders, staff and not-yet-union workers took part in 'Working in Higher Ed in Uncertain Times.' The event was a prelude to the second annual Higher Education Labor Summit set for June 20, 9 to 11 a.m. Higher ed workers can sign up here: //www.tinyurl.com/higheredlaborsummit.[/caption]
At Local's 888's April 30 "Working in Higher Ed in Uncertain Times" event, speakers said that gaining a seat at the table with management when dealing with the pandemic was a good example of what unions can do.
"Our members benefit from speaking with one voice, when dealing with Emerson," said Shaylin Hogan, vice president of Local 888's Emerson chapter said via Zoom. "We speak with members regularly and have developed a good working relationship with our Human Resource Department. That really helped us get members' coronavirus concerns addressed."
With the rapidly building crisis, "It was clear that management was tuning out our members," said Aimee Slater, head steward for Local 888's Brandeis chapter. "We quickly organized a meeting with management. It was amazing to see our members who haven't spoken up much before, feel so empowered. We stuck together for the sake of our peers; and management saw the power of our union."
With a voice at work becoming so vitally important for higher-education workers, Local 888 is convening its second annual Higher Education Labor Summit on June 20 (9 to 11 a.m.) to connect workers fighting to improve their work lives and share skills that it takes to win on campus. The summit will provide workers an opportunity to strategize and coordinate with other university workers on their organizing and contract campaigns. (Higher ed workers can sign up here for the summit: //www.tinyurl.com/higheredlaborsummit.)
"At American University, we were 10 months into a union campaign and building up a head of steam when the coronavirus hit," said Sam Sadow, visual resources curator and adjunct professor. The lack of face-to-face contact has slowed recruitment down, but the campaign is still moving forward. The key issues remain the same during the crisis, they are just heightened. For example, they have been organizing for a say in policy changes and now, during the pandemic, those policy changes seem to be happening daily.
A worker organizer at Tufts said, "I really like Tufts, but I want it to do better by its workforce." He said the university staff's COVID-19 transformation of the workplace shows that: "We are awesome. I'm proud of my co-workers for all they've done. It's important to remind ourselves: We are a skilled and flexible workforce. We deserve to have a real voice in our future."
"Winning isn't easy, but with a union, you're not by yourself," said Hogan. "Now speculation about what will happen after the coronavirus crisis is over — abound. We don't know what the new normal will look like. But you have to tell the administration that they're going to have to listen to us. We are leaders on our campus, and we must demand a voice to help shape new policies."
Links to resources to help workers stay safe!
COVID-19 RESOURCES FOR SEIU LOCALS Comprehensive Information on Covid-19