[caption id="attachment_10055" align="alignnone" width="300"]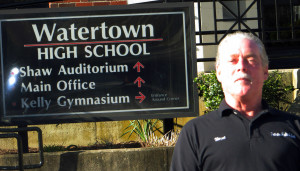 'DEVOTED TO THE KIDS': Wayne MacLeod said his Watertown chapter — custodians, maintenance and cafeteria — are essential workers on the job during the crisis.[/caption]
"We are essential workers; this is our moment to shine," said Wayne MacLeod, president of the Local 888 chapter that includes Watertown's cafeteria, custodial and maintenance workers. "Now is our time to step up and do what's needed," he said.
"We're pretty much all devoted to the kids. A lot of us grew up in Watertown, myself included," added MacLeod.
MacLeod said that he had worked closely with the schools' superintendent as the pandemic hit. Among other pandemic measures, schools were shut down March 17, St. Patrick's Day.
When he and the schools superintendent first connected to talk about the situation, MacLeod said, he told her that "whatever you need to do, we can do. It's time for us to step up."
At first, that meant four-hour shifts, five days a week, for the custodial and maintenance staff, later reduced to two days per week. The Local 888 members were paid their full salaries. Now that Local 888 unit is back in 40 hours per week and preparing to return the materials left in the schools — by teachers and students — at the time of the shutdown.
Cafeteria workers continued making meals for delivery to the town's children, particularly the needy. Scheduling varied, but has meant divvying up the needed shifts.
Meanwhile, the chapter is gearing up to negotiate a new contract, along with Local 888 internal organizer Patrick Atwell. In the current environment, negotiations are on hold
"We've had two negotiating meetings" to lay the groundwork, said MacLeod. He expressed optimism. "We've got a very good administration, and have worked well with them.
The Local 888 leader is now on a task force regarding school reopening. He said the pandemic will probably mean an increase to members' workloads, given the demands of increased cleaning.
The Massachusetts Coalition for Occupational Safety and Health has issued guidelines on COVID-19 safety that includes sections on custodial and food service workers. See: https://tinyurl.com/888essential.