[caption id="attachment_10155" align="alignnone" width="300"]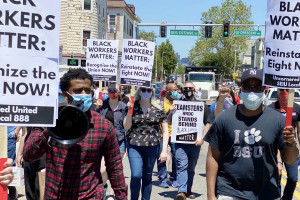 'BLACK WORKERS MATTER': Workers at College Bound Dorchester and their supporters march to protest the firing of staff members.[/caption]
Workers at the nonprofit College Bound Dorchester/ Boston Uncornered took part in a widely reported rally protesting the illegal firing of eight co-workers shortly after the staff announced a decision to unionize.
About 75 workers, their supporters and representatives from labor unions rallied for justice and union recognition several days later. They listened to speeches from workers and local luminaries such as Darlene Lombos, executive secretary-treasurer at the Greater Boston Labor Council, who charged that CBD practices "racism with a smile."
They then marched down Dorchester Ave. with signs saying such things as "Black Workers Matter, Reinstate the Eight" and chanting slogans like "Boston is a union town" and "Black Lives Matter on the rise, now it's time to organize."
The rally's demand: That agency CEO Mark Culliton reinstate the eight workers, about a third of the staff, and recognize the union. The workers believe the layoffs are in retaliation for forming a union, affiliated with Local 888, that they call "Uncornered United." Local 888 has filed unfair labor practice charges with the National Labor Relations Board.
College Bound refused to voluntarily recognize the union, so workers petitioned the NLRB for a union certification election. The vote by mail ballot will begin on July 29.
The layoffs particularly antagonized some workers coming on the heels of the agency's annual fundraiser (this year a virtual one), which pulled in a reported $650,000, including $100,000 from New England Patriots owner Robert Kraft.
The workers have a petition that supporters are urged to sign: tinyurl.com/CBDsolidarity. For a YouTube video of the rally, go to Facebook (https://www.facebook.com/SEIULocal888/) or follow this link.
College Bound is focused on getting current and former gang members off the streets and into school, using financial incentives to help them through high school and college. The program includes college readiness advisors who are mentors for the young adults.