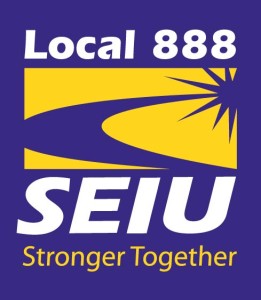 The Local 888 Executive Board has adopted a resolution calling for racial justice and an end to police brutality — as Black Lives Matter marches and protests against harsh policing have swept the country.
The board's resolution: "The members of SEIU Local 888 join working people across the country to demand change. We condemn police brutality and the murder" of people of color, including indigenous people. The resolution said this violence offers "visible examples of the systemic racism that is deeply embedded in the fabric of our society and economic system."
Nationwide protests broke out soon after George Floyd's death in Minneapolis on May 25 at the hands of police. Derek Chauvin, now fired and charged with murder in Floyd's death, kept his on knee on the deceased's neck for a reported eight minutes and 46 seconds.
The resolution added: "For the innumerable black and brown people who have died at the hands of racists, and due to racist policies — we call for justice. To the loved ones whose lives have been stolen: we grieve with you."
The resolution notes that "COVID-19 has shone a spotlight" on the inequalities in America. According to the Brookings Institution, "Among those aged 45-54, for example, Black and Hispanic/Latino death rates are at least six times higher than for whites."
For the full text of the Local 888 resolution see //www.seiu888.org/2020/06/22/seiu-local-888-executive-board-calls-for-justice-and-an-end-to-police-brutality/.
For more info about SEIU's support for the Black Lives Matter movement and increased police accountability, visit the international union's page: https://www.seiu.org/blacklivesmatter.