[caption id="attachment_10237" align="alignnone" width="300"]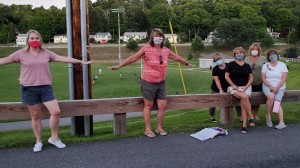 SOCIAL DISTANCING: Paraprofessionals in Marlborough are gearing up for the opening of the public schools, which will feature one type of a 'hybrid' model, with kindergarteners, for example in school full-time.[/caption]
A new state coalition that includes Local 888 has laid out 16 health and safety concerns that should be addressed before public schools reopen during the ongoing pandemic.
"It is imperative that state and local governments fully address COVID-19 issues in the schools," said Local 888 President Brenda Rodrigues.
"Our members' needs must be met. These include putting intensive cleaning practices in place, preserving school staff pay and benefits, providing adequate-sized and well-ventilated rooms, and maintaining socially distanced transportation for our students."
The new Coalition to Safely Reopen Schools said that: "Ours is a frontline perspective from those who will be ultimately responsible for the health, safety and quality of education that students will receive as a result of these decisions." The coalition has laid out a plan for reopening schools.
Some of the top issues are: making sure there is proper ventilation and circulation of air, ensuring proper social distancing and providing access to rapid testing — with clear guidelines for contact tracing for those who test positive for COVID-19. The coalition is made up "of school nurses, teachers, parents, bus drivers, cafeteria workers, librarians, school support staff, janitorial staff, labor, occupational health and community advocates, who came together to provide a  frontline perspective."
For more on Local 888 chapters in schools, see //www.seiu888.org/2020/09/16/hybrid-part-of-school-reopenings/.
The American Federation of Teachers Massachusetts (AFT), Massachusetts Nursing Association and the Massachusetts Coalition for Safety and Health (MassCOSH) belong to the coalition as well.
Also on the new coalition's must-do list: providing needed personal protective equipment (PPE) for all staff and students, identifying alternative spaces for schools in their respective communities and ensuring appropriate school nurse staffing. For more on the coalition, see https://www.massnurses.org/news-and-events/p/openItem/11811.
Local 888 supported #DemandSafeSchools actions on Sept. 2 that involved the AFT, MoveOn and other groups:. For more info, see https://www.facebook.com/SEIULocal888/photos/a.360691577312212/3308690302512310.
MassCOSH, which Local 888 belongs to, has a "COVID-19 Safety Toolkit For Workers: Health and Safety Protections and How To Make Them Happen." Find it at: https://tinyurl.com/MassCOSHCOVID. It includes sections particularly of interest to Local 888 members, such as childcare providers, school custodians and cafeteria workers.