[caption id="attachment_10055" align="alignnone" width="300"]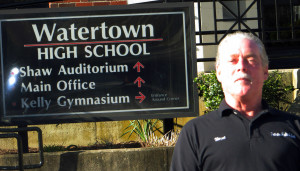 'DEVOTED TO THE KIDS': Wayne MacLeod said his chapter — custodians, maintenance and cafeteria — are essential workers who have been on the job during the crisis.[/caption]
With the start of fall looming amidst the ongoing pandemic, Local 888 school staff will face a wide variety of reopening plans — as drawn up by the state's disparate districts.
Local 888's Marlborough paraprofessionals returned to school full time and in-person on Aug. 31. A hybrid model for students will start Sept. 21. The students in kindergarten and first, second, 10th and 11th will also be in their schools full time. The rest of the students will cycle in and out of the schools, with part of their learning done "remotely," meaning online.
The Oxford schools, which have a Local 888 chapter for custodians and cafeteria workers, also has a "hybrid" reopening plan. This means, for example, that elementary school students will be in schools two days per week, with all the pupils online on Wednesday.
The Haverhill schools, which have Local 888 custodian and transportation chapters, had slated to reopen with a type of hybrid model, too. However, The Eagle Tribune of Lawrence reports that the new plan calls for most students in the hybrid program to learn remotely from home until Oct. 5.
The Haverhill schools superintendent said "we're looking for air to turn over four times per hour in a room." A consulting firm is now looking at the air quality in the buildings and how effective the ventilation is.
The Watertown schools, with a Local 888 custodian and cafeteria along with a clerical chapter, will open with an all-remote plan. This will continue at least through Oct. 27 for elementary school students, for example. At that time, these schools may change to a hybrid model.
In Brockton, where Local 888 has a cafeteria workers chapter, officials are also starting school "in a fully remote format." Other large cities, — including Boston, Somerville, Revere, Lynn and Chelsea — will also begin the school year with online teaching.