[caption id="attachment_10223" align="alignnone" width="200"]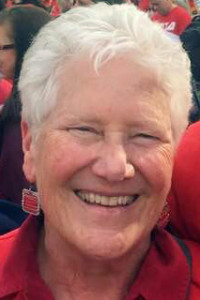 SUSAN WINNING[/caption]
The new retirees chapter of Local 888 has just launched a recruitment campaign and mailing.
"All retirees are welcome to join," said Susan Winning, the new Local 888 Executive Board member for the chapter. "Among other things, retirees will have a vote and a voice on the executive board — and will be part of the ongoing conversation."
Chapter members will be on hand at the union's annual convention, slated for Sat., Oct. 24. A special breakout session for retirees is in the works.
"The new chapter will offer a connection to other SEIU 888 retirees and the broader labor movement," she said. This will include a subscription to The Spark and the "Member Portal." And retirees will be able to take part in Local 888's political activities through its Committee on Political Action.
Winning said that she was eager to remain active in Local 888 after her 2019 retirement. She had been the director of the Labor Education Program at the University of Massachusetts Lowell for 20 years.
She also served both as a Local 888 trustee and executive board member. She was re-elected a trustee in 2018, running on the Leadership for Changing Times slate headed by now-Local 888 President Brenda Rodrigues.
At this time, the cost to join the Local 888 retirees chapter is $40 annually. For an application form, click this link. For more info, contact Lidia Calvo at lcalvo@seiu888.org.
Other SEIU locals have retiree chapters, as does the international union. (See: https://www.seiu.org/wuretirees-join). Members of the Local 888 retiree chapter will also get benefits offered by the international.
In addition, Local 888 has begun offering a BCBS Dental Insurance Plan for members of the retiree chapter. Enrollment periods apply. For the newly retired, click this link to get a form. For more info, email Linda Deluca at ldeluca.funds@seiu888.org.