[caption id="attachment_10301" align="alignnone" width="300"]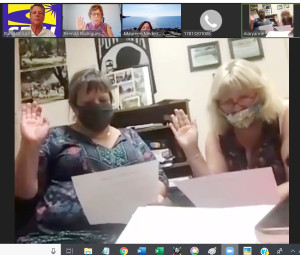 STEPPING FORWARD: Via Zoom, Local 888 President Brenda Rodrigues swears in stewards Lorraine Cavanaugh and Maryanne Carty as the new chapter leaders for the Westwood clerical and administrative workers.[/caption]
SEIU Local 888 has taken on the challenges of the COVID-19 crisis by innovating — such as by using Zoom to host union orientation programs for members, new ones in particular.
One recent evening session featured new members in the North Shore Regional 911 Center, Boston Public Schools and the Boston Water and Sewer Commission.
"I take great pride in being a union member — and in speaking up and making sure our voices are heard," said Brenda Rodrigues, Local 888's elected president, kicking off the Zoom event. She noted that, early in her working life at the Brockton Public Library, she became an active member of her union. Rodrigues emphasized that "the union is the chapter's members in the workplace. It's about how we work together to have a safe and healthy workplace."
The main service Local 888 provides members is internal organizers, who assist with collective bargaining and contract enforcement. Rodrigues compared belonging to a union to being a member of a gym. If you don't show up at the gym to exercise, you won't build up muscles.
Building up your union's strength means: knowing your contract, showing up at union meetings and supporting your co-workers on the negotiating team. It also means representing your union in the community or with elected officials.
Contact Johannes Raatz at jraatz@seiu888.org to find out more on member orientations. See www.seiu888.org for more info.