[caption id="attachment_10408" align="alignnone" width="300"]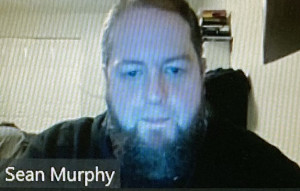 SEAN MURPHY: Shown on Zoom at the Local 888 2020 Convention.[/caption]
One of the top issues for the Boston Police Department's dispatchers is getting their pension status upgraded to fit more in line with their stressful jobs. For several sessions of the Massachusetts Legislature, members have been pushing for such a bill.
"We thought we had a good shot at getting the bill passed this year," said Sean Murphy, a city dispatcher and Local 888 chapter leader. "But then COVID-19 hit, and the bill kind of died."
The dispatchers are currently in the Group 1 level in the state pension fund — which is a classification for general employees, such as clerical workers. Under the Group 2 level, dispatchers could retire five years earlier and at a higher rate of pay than otherwise.
"This would mean that dispatchers could retire and enjoy the fruits of their labor," said Murphy. A key issue for dispatchers, he added, is on-the-job stress.
Murphy said that the first time he went to testify at the State House, "I found it a little intimidating. I'd never been to a legislative committee before."
He went with another dispatcher, Darlene Osbourne. "We spoke from our hearts, said Murphy. She had worked as a dispatcher for several decades. "She wanted to go," said Murphy. "She wanted to retire. She had health issues related to the stress of our jobs," he added. The rules were against her.
Murphy talked up the BPD dispatchers push for improved pensions during a workshop at Local 888's 2020 Convention.
Other Local 888 members are fighting for pension upgrades, too. These include LPNs and nursing assistants at the now-notorious Holyoke Soldiers' Home, who are currently classified as Group 1 as well.
Since his first introduction to the State House, Murphy said, he's seen more of how things work up there. There's the traditional modes of talking up lawmakers or their aides — calling up or dropping by the office.
Murphy said he was surprised that a newer approach, Facebook and its messaging setup, had turned into a great way to have a back-and-forth talk with a lawmaker.
Overall he said, persistence is what's needed to get legislation adopted.