[caption id="attachment_10654" align="alignnone" width="300"]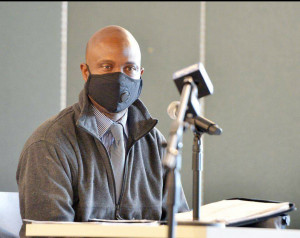 TRYING TIMES: Local 888 leader Kwesi Ablordeppey testifies at Holyoke Community College for the Legislature's special committee on the Holyoke Soldiers' Home outbreak.[/caption]
Last spring, the Holyoke Soldiers' Home achieved notoriety for having one of the worst COVID-19 outbreaks in the U.S. New management has been working closely with Local 888 to set things right.
"Local 888 and management, under acting superintendent Val Liptak, have had a cordial relationship," said Kwesi Ablordeppey, Holyoke chapter president. "Management has been working well with the union to hire more staff." He said he would have to wait and see how things go under the newly appointed acting superintendent, Michael Lazo.
Management has been hiring needed staff before reopening areas closed due to the outbreak — which killed at least 76 residents. Ablordeppey said that only six units at the Holyoke Home are operating, while there used to 10.
Under the ousted management, the facility had been understaffed for years. Members had launched campaigns demanding the facility increase staffing levels — out of fairness to both the vets and Local 888 members.
At the beginning of the outbreak, managers reprimanded Ablordeppey — in writing — for using personal protective equipment (PPE), such as a gown and the proper mask, an N95. In contrast, the new management has turned that around, he said, so there is sufficient PPE .
"They have done an excellent job," he said. Local 888 represents such workers as nursing assistants and licensed practical nurses.
An independent investigation conducted for the governor, after the Holyoke disaster, backed up Local 888 members. It concluded that understaffing and poor management had been a problem there for years.
The old management's negligent understaffing left it thoroughly unprepared to deal with the pandemic, as staffers became ill and stayed out sick. The superintendent's authoritarian style meant that such issues were ignored until the wolf was at the door.
At least 84 Soldiers' Home employees, of the over 300 employees there during the outbreak, tested positive for the virus.
The Local 888 leader said there is one major obstacle to hiring: The pay for CNAs and LPNs is too low. He said that, when he was hired at the Holyoke Home, the pay was competitive. Now, he said, CNAs and LPNs can pull in more at outside facilities.
Now, a recruiting firm is looking to fill another Holyoke post: that of superintendent, the top job. When the state stepped in take over the Holyoke Home, Western Massachusetts Hospital CEO Val Liptak was made the interim superintendent.
The former superintendent, Bennett Walsh, along with the former medical director, David Clinton were arraigned last month in Hampden County Superior Court on charges on criminal neglect charges stemming from the Holyoke Homes deaths. They pled not guilty and were released without bail.