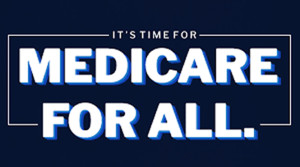 The need to reform the U.S. healthcare system has become even more pressing an issue due to the pandemic and record levels of unemployment. To address that problem, SEIU Local 888 supports setting up a Medicare for All, or single-payer, system. One way Local 888 leaders can get more involved in the movement for reform is to attend the 2021 Medicare for All Strategy Conference in January.
As many as 12 million Americans may have lost their health insurance when the COVID-19 economic crisis hit, a study from the Economic Policy Institute concludes.
The 2021 Medicare for All Strategy Conference, co-sponsored by the Labor Campaign for Single Payer, will be held online on Sat. and Sun., Jan. 23 and 24. "Single payer" means that the government will pay the bills, as insurance companies do now.
The aim of the conference is to meet with other labor and healthcare activists to strategize how to win this fight under a new administration and a new Congress.
The organizers' goal is to make this online event as participatory and interactive as possible. Workshops will consist of short presentations, with most of the hour dedicated to breakout sessions for discussion.
Some workshops will be geared to those who are fairly new to the issue while others will target seasoned activists. There will also be opportunities to talk with participants during caucuses, workshop breakouts — even "Happy Hours" hosted on the social networking platform Gather.
To register: https://www.eventbrite.com/e/2021-medicare-for-all-strategy-conference-tickets-127486594837