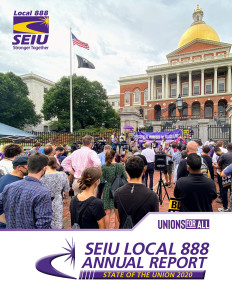 As part of Local 888's strategic plan, the union has released its 2020 Annual Report. The report demonstrates the executive board's commitment to transparency and summarizes key accomplishments along with the essential facts pertaining to the union.
"This year was unlike any other — and a heartbreaking one for far too many of us," said outgoing President Brenda Rodrigues. "The global pandemic threatened the health of many Local 888 members who work on the front lines, while it devastated many of the families and communities where our members serve."
In addition, she said, "it presented unique challenges for our Local 888 leaders, staff, and members." Nonetheless, Rodrigues said, "everyone stepped-up and worked as a team to successfully keep our members employed and as safe as possible."
Local 888 took on the COVID-19 crisis by adapting, holding its annual meeting and a higher ed summit online and conducting elections and contract negotiations electronically.
Zoom programming mushroomed into a remarkable pandemic success story, with 10 sessions of member welcome orientations along with Know Your Rights trainings taking in 20 sessions and 907 registrants. For the report, see //www.seiu888.org/annualreport/ or email myunion@seiu888.org.