[caption id="attachment_10792" align="alignnone" width="300"]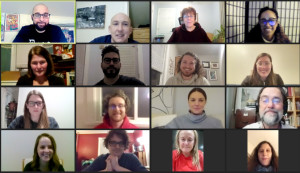 ZOOMING IN ON THE LAW: Leaders of the MassDefenders, a Local 888 affiliate, go online to be sworn in. The union has successfully hosted numerous such Zoom meetings during the COVID-19 crisis. Workers in the Massachusetts public defenders agency are campaigning to be allowed to bargain collectively.[/caption]
Outgoing President Brenda Rodrigues urged newly elected officers and board members of the MassDefenders to push on with their campaign for the right to organize a union.
"The 'just cause' protections in a union contract and the right to be heard in the workplace make all the difference," said Rodrigues. "It's about having a workplace where people are able to feel safe and work together with each other."
Due to a loophole in state law, the Local 888 affiliate needs permission from the Legislature to gain collective bargaining rights. All 17 of the MassDefenders' leaders were on hand to demonstrate their commitment to Local 888 at a Zoom swearing-in led by Rodrigues this month.
The at-large officers are president, Rachel Scotch; vice presidents Daniel Werner and Cara O'Donnell; treasurer, Jen Magaw; and recording secretary, Chris Gonsalves. There is one at-large board member along with three who represent different work areas, including administrative workers, investigators and social workers. The other board members represent regions of the state.
Rodrigues said that having a new speaker of the House of Representatives offers renewed opportunity. While the MassDefenders' campaign had already been going on since she was elected president in 2018, she has seen considerable progress as more legislators have signed onto the needed legislation.
Beyond that, she said, the workers in the Massachusetts public defenders agency "are more organized than some of our existing chapters." She urged them to keep up the fight, building on the progress already made.
The MassDefenders' leaders took Local 888's oath of office, which includes a pledge to "defend the principles of trade unionism" and to "lead by example, promote harmony, and preserve the dignity of this union."
The public defenders agency is officially known as the Committee for Public Counsel Services. About 750 attorneys, social service advocates, investigators, secretaries and other professionals work on behalf of poor people in criminal cases, juvenile cases, child and family cases, and mental health and other civil commitment cases.
For more on the MassDefenders, see //www.seiu888.org/2020/04/17/massdefenders-net-win-during-crisis/. For more on "just cause" protections, see //www.seiu888.org/2020/05/27/firing-must-have-just-cause/.