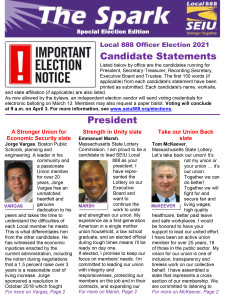 A Special Election Edition of The Spark lists the candidates running for President, Secretary-Treasurer, Recording Secretary, Executive Board and Trustee. The first 150 words (if applicable) from each candidate's statement have been printed as submitted:
Vote online with your unique electronic credential (search your email in-box for "ElectionBuddy") or
Request a mail-in ballot from the Union Hall at myunion@seiu888.org and/or call (617) 241-3300.
Voting will conclude at 9 a.m. on April 3. For more information, see www.seiu888.org/elections.