The Local 888 Executive Board met on May 21 at the union hall in Charlestown.  Local President Mark DelloRusso introduced two new prospective board members.
[caption id="attachment_4821" align="alignright" width="150"]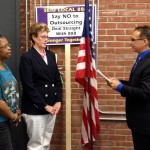 Anita Christon and Janet King take their oath of office and are sworn in as new officers by President Mark DelloRusso.[/caption]
Anita Christon -- nominated to replace Tina Swift as Recording Secretary -- has worked for the City of Boston Dept. of Neighborhood Development for 27 years.  She was a former Local 888 board member and active in our predecessor Local 285 for many years.
Janet King -- nominated for a seat on the Executive Board -- has worked at UMass Lowell since 1985.  Janet is currently chapter chair for the professional unit and is leading contract negotiations there now.
Anita and Janet were unanimously elected to their respective new positions by the Executive Board.
Mark reported on the continuing struggle by the Malden custodians to stop the School Dept. from outsourcing their jobs.  Another rally is planned for June 3.
Mark notified the board that an Election Committee must be formed to supervise Local 888's officer and executive board elections next April.  A bylaws' committee has been meeting to recommend some changes to help prevent some of the confusion that occurred in 2012.   Lori Moran has volunteered to resign from the Executive Board and serve on the Election Committee.
A scholarship has been created in honor of recently deceased member Greg King and a memorial service is planned for June 7.
Mark reminded the board that the Local 888 convention will be on October 4 from 11 AM – 3 PM at the DoubleTree in Westborough.
Secretary-Treasurer Brenda Rodrigues provided the board with an overview comparing Local 888's projected budget with actual revenue and expenses for the first quarter of 2014.  Total Year to Date income for the first quarter was $1,270,306.  Total expenditures were $1,264,069.  Members interested in learning more about Local 888's budget and finances can email myunion@seiu888.org for a quarterly financial statement.
Director of Field Operations Lisa Field reported on progress with the new regional committees and Local 888's collaboration with MassCOSH to develop a new Safety Council for union members.  A training for members on building stronger health and safety committees will take place on June 7 from 8:30 AM – 2:30 PM at Fitchburg State University.
[caption id="attachment_4822" align="alignleft" width="150"]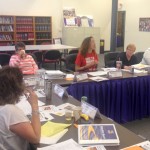 Fight for $15's Toya Chester (in red t-shirt) led a spirited discussion with the Executive Board on winning $15 an hour for all workers in Massachusetts.[/caption]
All members that work for school cafeterias are invited to a Local 888-wide meeting to discuss building health and safety committees and fighting privatization.  The meeting will be on Saturday June 28 from 9:30 AM -1:30 PM.
The featured speaker at the meeting was the Fight for $15**'**s Toya Chester who is spearheading a campaign to win $15 an hour for all workers in Massachusetts.  Toya described campaigns that are underway in Seattle and San Francisco to win $15 an hour for workers.  Many unions, including the Transit Workers, Mass Teachers and AFSCME have endorsed the campaign.
In Massachusetts the labor movement is gearing up for a June 12 Day of Action for Low Wage Workers.  All members are urged to attend rallies from 4-6 PM in Boston, Worcester and Springfield.  For more information visit wageaction.org
[caption id="attachment_4823" align="alignright" width="216"]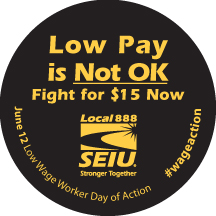 No matter what your hourly pay, show your support for the Fight for $15 by wearing this sticker on June 12. Order stickers at: myunion@seiu888.org[/caption]
Members of Local 888 who make less than $15 an hour are urged to wear special "Low Pay is Not OK" stickers on the job that day. To get stickers for you and your co-workers contact your Local 888 Field Rep. or email myunion@seiu888.org
Organizing Director Rudy Renaud reported that since the beginning of the year, the Organizing Department has been busy organizing with potential members in residual bargaining units within the cities and towns where Local 888 already has members.  Organizing staff are also continuing to work with the over 800 employees of the Committee for Public Counsel Services, (Mass Defenders) who are seeking to pass legislation enabling them to organize.  The Mass Defenders now have a very special song of their own called "Stand With Us," written and performed by Erin Mckeown.
Educational Collaboratives  are quasi-state agencies that deliver special educational services to multiple school districts.  Workers at several of the collaboratives in Central Massachusetts have been interested in forming a union and are considering beginning more active campaigns.
Do you know someone who would like to join a union?  Contact Rudy at (413) 475-0895 or krenaud@seiu888.org.
At last March's Executive Board meeting, the Executive Board heard a presentation on Senate Bill 1225 which would divest fossil fuel investments from the Massachusetts Pension Reserves Investment Management Trust (PRIM) over the next five years.  Right now 2.6% of state investments are in companies defined as "fossil fuel" companies.  The bill would call for the state to divest from these companies from over the next 5 years -- 20% of the fossil fuel investment each year.  The Executive Board voted 13 to 4 (with 4 abstentions) to urge the Massachusetts legislature to enact Senate Bill 1225.  Click here for more info about the divestment campaign.
Political Director Dan Hoffer distributed Raise Up Massachusetts signature gathering kits to the board to increase the minimum wage and win earned sick time.  Local 888 has pledged to gather 500 signatures for the campaign.  Overall 60,000 signatures are needed to qualify for the ballot by June 13.  Members who want to help gather signatures should contact Dan at dhoffer@seiu888.org or (617) 642-3588.