Building a strong organization in your workplace is based on our collective power, what individual members do together with a shared mission. In the coming months, it is likely that a Supreme Court decision (Janus vs Illinois) will make public sector union membership voluntary.
In states where laws like this have already passed, it can result in less bargaining power with management because the union is weaker with fewer members.
In anticipation of the Supreme Court decision, Local 888 leaders will be preparing members for the impact of the decision and discussing with all members ways to keep our union strong in the face of this attack.
[caption id="attachment_7856" align="aligncenter" width="500"]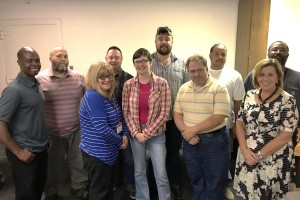 Western Mass Leadership Training participants: Kwesi Ablordeppey (Holyoke Soldiers Home), Chris Gouin (Barnes Air National Guard), Teresa King (Soldiers Home), Willie Mathieson (Barnes), Angela Dickinson (Soldiers Home), Josh Kusnierz (Veteran's Cemetery), Paul Moriarty (Berkshire Reg. of Deeds), Pedro Ortega (Amherst Housing Authority), 888 Sec.-Tres. Brenda Rodrigues, and Lance Bedford (DCAM)[/caption]
In early October, Local 888 staff held the first of many upcoming Chapter Chair Regional Leadership Trainings to prepare for the Supreme Court Decision. Click here to read an interview with Josh Kusniesz who attended the training.
One benefit of the training was that participants got to meet other chapter leaders to share experiences. They talked about the roles and responsibilities of chapter chairs, how to get members to commit to the union, and worked in break-out groups to make plans and goals for their chapter.
Upcoming Chapter Chair Regional Leadership Trainings All chapter chairs and chapter leaders are urged to attend a regional leadership training!
October 25, Central Mass
November 1, Merrimack Valley/North Shore
November 9, South Shore
November 16, Cape Cod
November 29, Boston Metro
December 5, Boston Metro North
If you are interested in attending, please contact your union rep.