[caption id="attachment_9643" align="alignnone" width="300"]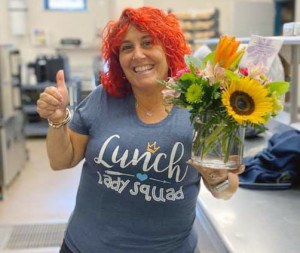 'LUNCH LADY SQUAD': Lisa Mather at Brockton's Angelo Elementary School wears a special T-shirt to celebrate Food Service Workers' Recognition Week. Mather attended the 2019 Leadership Conference.[/caption]
"Let's make sure we keep on pushing forward — and keep building on our successes," Local 888 President Brenda Rodrigues told members and staff at the union's 2019 Leadership Conference.
"Just two days ago, food service workers had the opportunity to have their voices heard at a public hearing in Brockton," Rodrigues added. The hearing, with state lawmakers, capped Food Service Workers' Recognition Week, which was launched by the local. "They say that 'food is love' — and our members serve it every day."
Rodrigues added: "Our contract campaign on behalf of the Groton-Dunstable cafeteria workers saved them their hard-earned benefits and working conditions." The Local 888 campaign turned back the school district's plan, — which was to cut costs by outsourcing members' jobs and slashing their benefits and hours, if not simply replacing them.
"Launching successful contract campaigns and building up Local 888 all comes down to strong chapter leaders like you," she told the 75 leaders at the conference (See related article.) "You meet the challenges, give generously of your time and make it all possible," Rodrigues added.
Rodrigues pointed out that, "One goal of our strategic plan for 2019 is to have one leader for every 10 members." Leaders are working on 2020 strategic plan as part of an ongoing effort to sustain and strengthen Local 888 in the wake of the U.S. Supreme Court's anti-union Janus decision.
Local 888's strategic plan for 2019 identified six key industry sectors: early education, public schools, higher education and public authorities along with state and municipal workforces. The plan also looked at top job categories for Local 888, which include cafeteria workers and custodians.
This fall, Local 888 wrapped up a study on the health and safety issues facing custodians. For and in-depth report, see //www.seiu888.org/2019/09/09/custodians-eye-on-job-hazards/