[caption id="attachment_9653" align="alignnone" width="300"]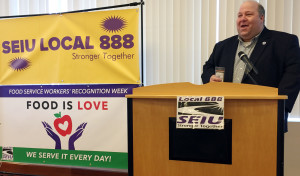 LABOR BACKGROUND: At Local 888's 2019 Leadership Conference, state Sen. Paul Feeney (D-Foxboro) thanked the union for its support.[/caption]
State Sen. Paul Feeney (D-Foxboro) thanked Local 888 for its support, adding that union backing was crucial to his special election win two years ago.
Before his election to the state Senate, Feeney worked as a central office technician at Verizon and legislative director of IBEW Local 2222. He credits the labor movement not only for his election, but for his successes in life in general.
"In 1989, when I was just a little guy, 11 years old, I watched my dad go out on strike," said Feeney. He said that he couldn't understand what his dad was doing, at the time.
The cost of health insurance was the top issue then, as almost 60,000 telephone workers went on strike for 15 weeks — and won.
Feeney said it was not until years later — when he worked at the telephone company himself — that he fully understood the reason for the strike. When his young family needed health insurance, it was there for them.
"The excellent medical insurance wasn't there because the company gave us anything. It was there because folks like my dad went on strike for it and made sacrifices for it," said Feeney.
The state senator said he keeps his union card with his pass for getting into the Massachusetts Capitol — to help remind himself of his roots. His goal: "To make sure working-class people have a voice in the Massachusetts Senate."
Feeney was the keynote speaker at Local 888's 2019 Leadership Conference. The local also endorsed Feeney for his re-election campaign last year. For more on 2018 endorsements, see: //www.seiu888.org/2019/09/09/local-888-looks-to-election-as-leaders-gear-up-for-races/
More pictures from the Local 888 conference are posted here: https://photos.app.goo.gl/9M1HMxap6xW1KHcZ9