[caption id="attachment_10226" align="alignnone" width="281"]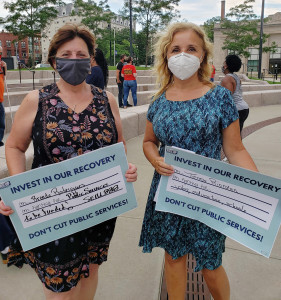 APPEAL TO LAWMAKERS: Local 888 President Brenda Rodrigues and longtime leader Teresa Riordan hold signs at a Brockton rally warning that deep budget cuts could drive the state into a deeper recession. The Coalition for Social Justice and Raise Up Massachusetts organized the event.[/caption]
Outgoing chapter leader and executive board member Teresa Riordan has retired from her Westwood job — and from her 20 years of service to Local 888, including nearly three years on the board.
One of her last actions as chapter chair was to persuade her all-female town employees chapter in Westwood to donate chapter funds to Dove, which works to end domestic violence while offering emergency shelter to those in need.
Riordan said she was looking at possible uses for chapter funds earlier this year. One member suggested Dove. Riordan then pitched the charity to her chapter's 23, Local 888 members — who agreed. "My union co-workers wanted to be of service to those in need," said Riordan.
Dove, founded in 1978, provides services such as crisis intervention, counseling, emergency shelter and legal assistance. COVID-19 has affected some services. For more information on Dove, see https://dovema.org/.
Chapter funds can be used for a range of purposes, including donations to charity. See: //www.seiu888.org/2019/10/30/christmas-often-tis-season-for-spending-chapter-funds/