[caption id="attachment_10321" align="alignnone" width="300"]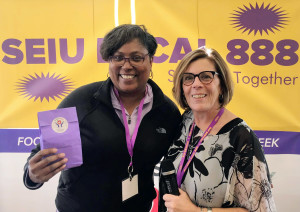 THAT WAS THEN: Local 888 President Brenda Rodrigues, right, gives out a prize to a member at the 2019 Leadership Conference. To register for the Oct. 24 Local 888 Convention and be eligible for a special door prize, see //www.seiu888.org/convention/.[/caption]
Work on the 2020 convention is heating up as the clock ticks down to Oct. 24, 10 a.m. to 12:30 p.m. The COVID-19 pandemic has required Local 888 to schedule the event on Zoom. Members are urged to register early and be eligible for a special door prize (see //www.seiu888.org/convention/).
"In these pandemic times, our union has persevered and creatively tackled the problems at hand — and kept moving forward," said Local 888 President Brenda Rodrigues. "We've adapted to the coronavirus crisis by holding health and safety and union rights workshops online and having our executive board and staff continue to meet all the while."
"I look forward to connecting with our fellow members and talking about how COVID-19 has impacted their lives, professionally and personally," said Kevin Nascimento, the local's. new secretary-treasurer. "These are trying times that require displays of solidarity and understanding in order to help each other cope so we can solve issues and get each other through the day."
Susan Winning said she was "excited to kick off the formation of Local 888's new retiree chapter "It will be great to have the opportunity to work with other retirees to begin planning how to build the chapter," added Winning, the new executive board member for retirees.
Local 888 has identified six key industry sectors that members work in: early childhood education, public schools, higher education, public authorities and state and municipal workers. There will be breakout sessions for members to meet with workers in their sector to compare their working conditions and experiences.