[caption id="attachment_10412" align="alignnone" width="300"]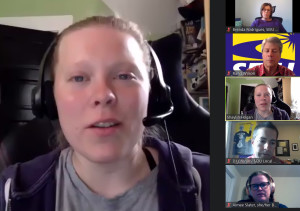 SPEAKING UP: Local 888 leader Shaylin Walsh-Hogan, from the Emerson College chapter, is shown on Zoom.[/caption]
Higher education workers have continued organizing — both in their own Local 888 chapters and in not-yet-union workplaces — right through the pandemic. This has included having higher-ed workers meetings held on Zoom, hosting a workshop at the Local 888 convention and participating in a recent summit organized by the union.
During the convention, "members shared examples of successful alliances they have built on their campuses" said Esther Brandon, a steward for the Brandeis University library. And they shared an exercise on power mapping, which is used to identify individuals who could be persuaded to promote social change.
And of course, given the ongoing COVID-19 crisis, people also talked about the difficulties of communicating and working with allies during the pandemic, she said.
Brandon organized the "Brick by Brick: Building Alliances to Strengthen Your Union"workshop with the help of Local 888 staff and Shaylin Walsh-Hogan, a Local 888 Executive Board member and Emerson College chapter leader.
The Brandeis librarians won an impressive new contract last year with a key assist from the wider college community. A student group, the Brandeis Labor Coalition played a prominent role in the chapter's rallies for a fair contract. The result is that some Local 888 members will receive up to 15 percent raises over the life of the three-year pact.
Similarly, the Emerson chapter won their first-ever contract in 2018 after organizing a May Day rally outside the main administrative building — with support from the college's wider community.
Local 888's Christine Morgan is hosting Zoom meetings for higher ed workers. For more info, email her at cmorganj@seiu888.org.
Racism at colleges was a key topic at Local's 888's second annual Higher Education Labor Summit. Local 888 leaders took note of the history of racism in higher education, along with the success that Local 888 chapters have had in fixing wage scales riddled with bias.
"One of the things I'm most grateful for is that the Local 888 staff went to bat" for a longtime librarian, a person of color, who was one of the lowest paid, said Kate Silfen, a Boston University librarian chapter leader. The BU librarians' latest contract paves the way for a more just workplace — curbing such bias by limiting "merit pay." Previously, librarians' yearly salary raises had been completely merit-based.
At Emerson College, "the pay scale was tilted dramatically in favor of white people and white women," Shaylin Hogan, Local 888 chapter vice president. The complete picture only came out during bargaining for the chapter's first union contract, ratified in 2018. The contract covers about 170 clerical, technical and professional employees at Emerson College who perform a variety of jobs critical to the success of the college.
During the summit, held via Zoom, a presentation on "Combating Racism in Higher Education" took a look at both the history of such institutions and more present-day situations.
The presentation noted that it wasn't till 2016 that Harvard University began acknowledging the role of slavery in the university's history. For one, the university put up a plaque honoring four slaves who worked at Wadsworth House, where Colonial-era university presidents lived.
As reported by The Boston Globe, the university president said at a ceremony that there probably were other slaves who worked on the Harvard campus. However, those names are not known.
The move comes as Harvard reexamines its role regarding slavery
The presentation also touched on Stephen Jay Gould's 1981 book "The Mismeasurement of Man," which critiqued the scientists who, over the course of a couple centuries, set out to prove that some groups of people were inferior to others.
Brandeis University chapter leader Esther Brandon pointed to more-recent history. She noted that the school had fired its men's basketball coach in 2018 over complaints that he engaged in racially biased harassment and discriminatory behavior. Ultimately, as part of the scandal, a Brandeis vice president resigned and two administrators were put on probation, according to the Globe.
For more on the Local's 888's second annual Higher Education Labor Summit, see //www.seiu888.org/2020/07/16/higher-ed-summit-tackles-race-covid-19/.