[caption id="attachment_10752" align="alignnone" width="208"]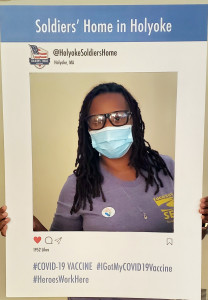 PICTURE OF GOOD HEALTH: Shante Barnett celebrates taking part in the COVID-19 vaccination campaign at the Holyoke Soldiers' Home.[/caption]
A new round of help has arrived at last for the state-run Holyoke Soldiers' Home — this time in the form of COVID-19 vaccinations. In Massachusetts, the Phase I vaccination plan puts residents and caregivers in long-term care facilities up high on the priority list.
At least 76 Holyoke Home residents died in the outbreak there, early on during the COVID crisis. More than 84 Soldiers' Home employees, out of more than 300, tested positive for the virus during the outbreak. More have tested positive since then.
On Jan. 19, those who had gotten a first dose of a vaccine in December were able to get the required second dose. Those who missed out before had a second opportunity to get onboard. Vaccinations are voluntary for workers and residents, the vast majority of which got vaccinated.
Getting staff fully onboard has been a harder sell. Chapter members and leaders have led the way.
"I encourage workers to get vaccinated so we can protect lives," Kwesi Ablordeppey, Holyoke chapter president. However, added the certified nursing assistant (CNA), "many are reluctant to get the vaccine, because of a distrust of the government, due to past practices. Also, there are so many conspiracy theories surrounding this vaccine."
Joe Ramirez, chapter vice president, said management had not done enough to educate staff about the vaccine and get people onboard. As a practical matter, the CNA said, "I can't force or change someone's mind as to getting the vaccine. It's a fine line — to encourage people to get it, but also not make them feel ashamed if they don't."
Ramirez was severely sickened by COVID-19 during the outbreak, so already may have been protected. "I got the vaccine more to protect my veterans — in the hopes that it does help and that we also can go back to having some kind of normalcy." He added that he would like to be able to "engage more with the veterans outdoors and about the building. The way they have been living has had an effect on them and on the staff."
In a developing legal case, the two top officials in charge of the Holyoke Home during the COVID-19 outbreak have been arraigned in superior court on charges of criminal neglect over the deaths of so many residents. They pled not guilty and were released without bail.
For more on the court case against ex-Holyoke Home officials and the state's probe into the outbreak, see //www.seiu888.org/2020/11/16/holyoke-homes-ex-honchos-in-spotlight/.