[caption id="attachment_8731" align="alignnone" width="300"]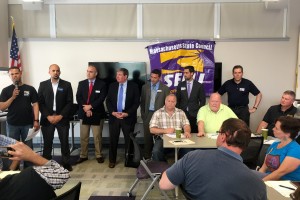 MERRIMACK VALLEY FORUM: Local 888 member Pedro Ayala, left, speaks up as legislative candidates listen. Seated in front, from left, are Local 888 leaders Fred Simmons, Mike Kelly, Tom McKeever and Darcie Boyer.[/caption]
As the countdown to the Sept. 4 primary begins, Local 888 leaders are sizing up the candidates and issues.
State representative candidate Darrin Howell has been endorsed in the Fifth Suffolk District by SEIU Locals 888 and 1199, where he previously worked as a political organizer. The seat is being vacated by Evandro Carvalho.
The district covers parts of Dorchester and Roxbury.
While with SEIU 1199, Howell advocated for raising the minimum wage to $15 an hour and establishing a paid family and medical leave policy statewide.
Howell, 36, has also campaigned for criminal justice reform. While a young man he served time in jail, and later experienced the difficulties of finding work in the outside world.
Fortunately, he found work as a staffer for then-Boston City Councilor Chuck Turner. For more information on candidate Howell, see: //darrinhowell.com/
In other election news, a Merrimack Valley State Legislative Candidates Forum sponsored by the SEIU State Council spotlighted candidates in that area. Local 888 member Pedro Ayala was the moderator at the forum,
Local 888 member Alexcy Vega (See //www.seiu888.org/2018/06/08/throwing-hat-in-ring/) has launched a Democratic primary challenge to incumbent Northern Essex Register of Deeds Paul Iannuccillo.
Longtime Local 888 member Deborah Moran of Adams is running as an independent in the race for the Northern Berkshire District Register of Deeds. Another longtime member, Maria Ziemba, also of Adams, is running for the same post in the Democratic primary. (See: //www.seiu888.org/2018/06/11/local-888s-big-role-in-berkshire-race/))
Local 888 has helped spotlight the top congressional races slated for the Sept. 4 primary election.
A 3rd Congressional District forum, sponsored by the SEIU State Council in Lawrence, gave Local 888 members a chance to grill a field of seven Democratic candidates in a round-robin setup. The seat is open because U.S. Rep. Niki Tsongas (D-Lowell) is retiring.
In addition, a 7th Congressional District forum, held at the SEIU 1199 offices in Quincy, highlighted the race between U.S. Rep. Michael Capuano and his challenger, Boston City Councilor Ayanna Pressley.
Local 888 does not plan to endorse a congressional candidate in either race until after the primary.
According to the secretary of state, the deadline to register to vote in any election is 20 days prior to voting, so this year it will be August 15. See: //www.sec.state.ma.us/ele/eleifv/howreg.htm